OUR SERVICES IN MORE DETAIL
For further information send us an enquiry here or call us free on 0800 6127182, for a free consultation. We are located in the Essex area, and can meet in person in Essex and the neighbouring areas.
Everyone in business needs to prepare annual accounts and our highly qualified staff can help. From the preparation of sole trader and partnership accounts, to the preparation of financial accounts for limited companies/partnership in a format to comply with statutory filing requirements.
Financial statements consist of profit and loss account, balance sheet and where required/desired cashflow statement.
We can assist you and your staff with all your bookkeeping needs including the preparation of accounting records to trial balance stage. Ensuring the accounting records are bought to trial balance stage will assist your accountant in preparation of your financial statements used in the calculation of the tax liability that may become due. This in turn should reduce your accountancy fee.
We offer a cost efficient service by rather than you spend your valuable time and money learning the concepts of bookkeeping. So why not let an expert take the stress away from you? We aim to provide a professional, high quality level of work which will enable you to focus your time on maintaining and growing your business. We will maintain your records on a computerised system which will reduce the cost of you having to purchase additional tools and equipment.
We will meet on a regular basis to ensure that you retain financial awareness and control of your business and our aim is to adapt to your business and its ever changing demands.
Our services would include:
Preparation of cash books including monthly reconciliations
Aged creditors and debtors reports
Maintenance of bought and sales ledger
With the growing complexity of employment legislation, taxation and penalties for non-compliance, running your payroll can be an administrative burden, diverting resources from running your business.
We are able to relieve you of this burden, providing a comprehensive payroll service, including:
Processing of PAYE, national insurance, statutory sick pay, statutory maternity pay, etc
Administration of pension scheme deductions
Processing of bonuses, termination payments and ex-gratia payments
Completion of customised payslips
Preparation of all statutory forms, including end of year returns to be issued to HM Revenue & Customs and your employees
We provide a full range of corporate tax services from completion corporation tax returns, calculating corporation tax payments, to advising on dividend policies and specific tax planning advice.
We provide a full range of personal tax services from completion self assessment tax returns, calculating personal tax payments, and specific tax planning advice.
In addition to the standard bookkeeping work, we can also maintain your VAT records and prepare and complete your VAT returns, including online filing if required.
Online filing can help your cash flow:
You get up to seven extra calendar days to submit your VAT return when you do it online
By paying electronically, you can also get up to seven extra calendar days to pay your VAT
If you pay by direct debit you have three further banking days before payment is taken from your account
This also means that you will receive your VAT repayment quicker if HMRC owes you money
Our pricing policy is subject to the demands required from each client, for further information, either call on 0800 6127182 or enquire here.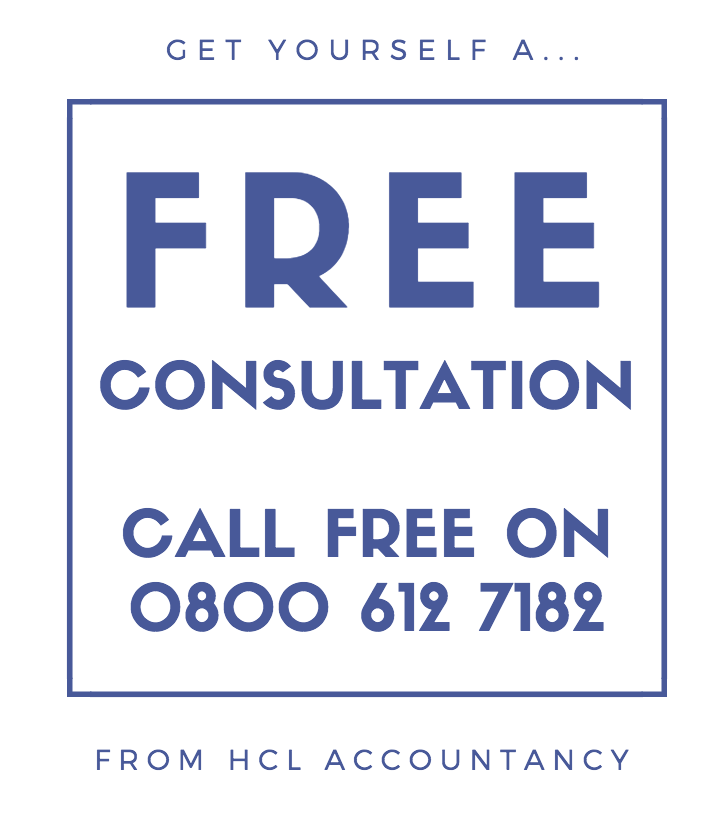 Our pricing policy is subject to the demands required from each client, for further information, either call on 0800 6127182 or enquire here.
Does your existing accountant provide you with a service that you are happy with? Are you looking for an accountant that can offer more than just an invoice for their services?
At HCL Accountancy we are dedicated to making your experience with an accountant different. To be the first choice supplier for business services, to small and medium businesses, through Client recognition of our Integrity, Quality and Value.
We promise to treat all businesses, regardless of size, equally whether you are a new or established.
You will receive regular business updates on your organisation. This will help you understand how your business is performing in a timely manner, allowing you to make proactive decisions rather than reactive.
Regular communication with you will be maintained throughout the year, reducing the likelihood of disruption or surprises to either party with regards to your business affairs.
You will have one point of contact, enabling us to deal with your request in a timely and cost efficient manner. Your contact will have an in depth understanding of you and your business, saving you the unnecessary time spent explaining yourself to people you do not know.
We are able to provide your entire accounting requirements under one roof, from accountancy to bookkeeping and payroll to personal tax. Amalgamating your services to one provider will assist us in providing you with a cost efficient solution to your needs.
We will spend the time with you to explain and remove the mystery of your finances in a manner in which you can understand. By putting the terminology into plain English, you can have a better understanding of your business and what you want from it.
If you feel your accountant does not provide you with the above level of service, or you are looking for an accountant, why not contact us for a no obligation discussion of how we can meet your needs.